Treat yourself, your co-workers, or that special nurse in your life. Theses make great Nurses Week gifts, holiday gifts, birthday gifts, and graduation gifts.

Nurse Keychain charms are $5.99 EACH plus $4.00 shipping and handling. After the initial item is sold, I am able to make a similar item to fill your order. No two items will ever be identical due to the nature of the resin and the art.
Custom orders are always welcome.
Contact
me for a quote of Cost and Time to produce.
The charms will come attached to a gold or silver keychain.
These are epoxy resin handmade coasters/trinket tray made from epoxy resin. The rounds are 3 inches in diameter with a shallow rim. The hexagon is 4 inches from point to point and again has a shallow 1/4 in rim. The rounds will hold a standard 16 oz water bottle or 12 oz soda can. The hexagonal will hold a coffee cup. They are each embedded with nurse charms.

The trays are $15.99 for the round and $19.99 for the hexagonal. Plus $10 shipping and handling. (The hexagon is also available in the blue similar to the round blue.)

Custom orders are welcome.
Contact me
for a quote for Cost and Time to produce.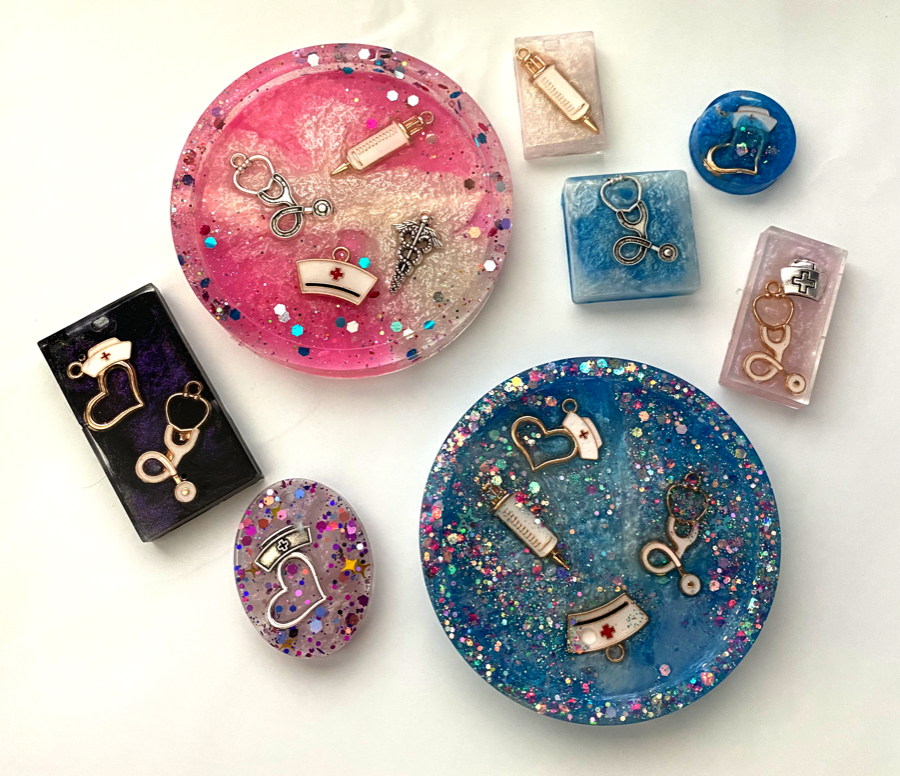 These are part of a #Nursesweek Give Away May 6-12 on
TheNursingSite.com